This service covers several various options... I can rebind an existing book (store bought or handmade) or add the cover onto your bound pages. If you can't find the right leather, or don't want to tackle the project yourself, you can send me your diary and I'll bind (or rebind) your book with whatever specs you're looking for (aging, decorative border, specific leathers, etc).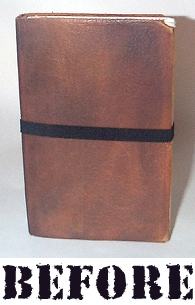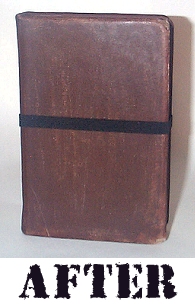 Here is an example of a recovered diary. Originally it had a light brown rough-cut piece of leather glued to the exterior of the book. It has been replaced with a dark cow-hide cover, and aged. Because the leather overlaps the cardboard covers, it can have the corners rubbed raw, exposing the cover underneath (just like the original prop).

Many store bought journals today have this simple rough-cut leather cover, but my diaries are bound and covered like authentic old-fashioned books.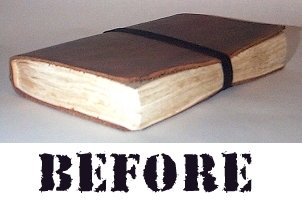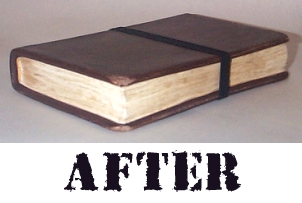 This is the same journal as above, showing the original rough-cut leather versus the leather-wrapped cardboard cover. The corners of the cover can be seen coming out of the leather on the redone diary.



If you're interested in getting a book bound or rebound, feel free to e-mail me with options and for the availability of certain leathers.